Births, Marriages and Deaths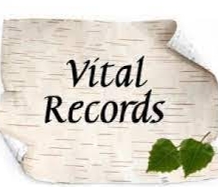 The Town Clerk keeps the official records of the town, back to the earliest period. Records of births, deaths and marriages are an important archive for family history. The Town Clerk registers all vital events occurring in the Town of Conway and those occurring elsewhere to local residents. The Office records and preserves birth, marriage and death records.
ALL Certified copies are $10.00 each and can be obtained through the Town Clerk's Office.
Impounded or Restricted Birth and/or Marriage records will require a photo ID.
Checks should be made payable to the Town of Conway.
Vital records can be obtained in person during regular business hours with cash or check only or ordered through this website.
Written requests may be sent by mail. Send written requests with a check payable to the Town of Conway and a self-addressed-stamped-envelope to: Town Clerk, P.O. Box 240, Conway, MA 01341. Please include the following information:
Birth Certificate – child's full name(s) and date(s) of birth
Death Certificate – name of deceased and date of passing
Marriage Certificate – names of both parties and date of marriage