Town Administrator
Contact:

Véronique Blanchard, MCPPO

(413) 369-4235 Ext. 3

Hours:

Mondays 8:00 AM to 4:00 PM
Tuesdays through Thursdays
8:00 AM to 5:00 PM
with an hour for lunch
Fridays 8:00 AM to Noon
Conway being a small town, the Town Administrator serves as Conway's Chief Administrative Officer, Chief Financial Officer, Chief Procurement Officer, IT Director, Floodplain Administrator, ADA Compliance Officer and Human Resources Director. Among other duties, the Town Administrator oversees all appointed department heads; manages the long-term financial plan and the preparation of the annual Town budget; prepares annual and special Town Meeting warrants; and oversees municipal procurement for both capital and operating items. The Town Administrator prepares a proposed Town-wide budget each year for consideration by the Selectboard and Finance Committee. The Town Administrator is hired by and reports to the Selectboard, and works under contract to the town.
The Town Administrator is aided by a part-time assistant, Adam Reed, who manages the production of the Annual Town Report, permitting and licensing, scholarships, and website maintenance; takes minutes at Selectboard meetings; assists in Town Meetings, Selectboard meetings, and human resources administration; and tackles a host of other tasks as they arise. He can be reached at 413-369-4235, x 0 or assistant@conwayma.gov
BELOW IS CONWAY'S THANK YOU PLAQUE, GIVEN TO FRANSICA HEMING OF MASSDOT, REP. BLAIS & SENATOR MARK, MARCH 28, 2023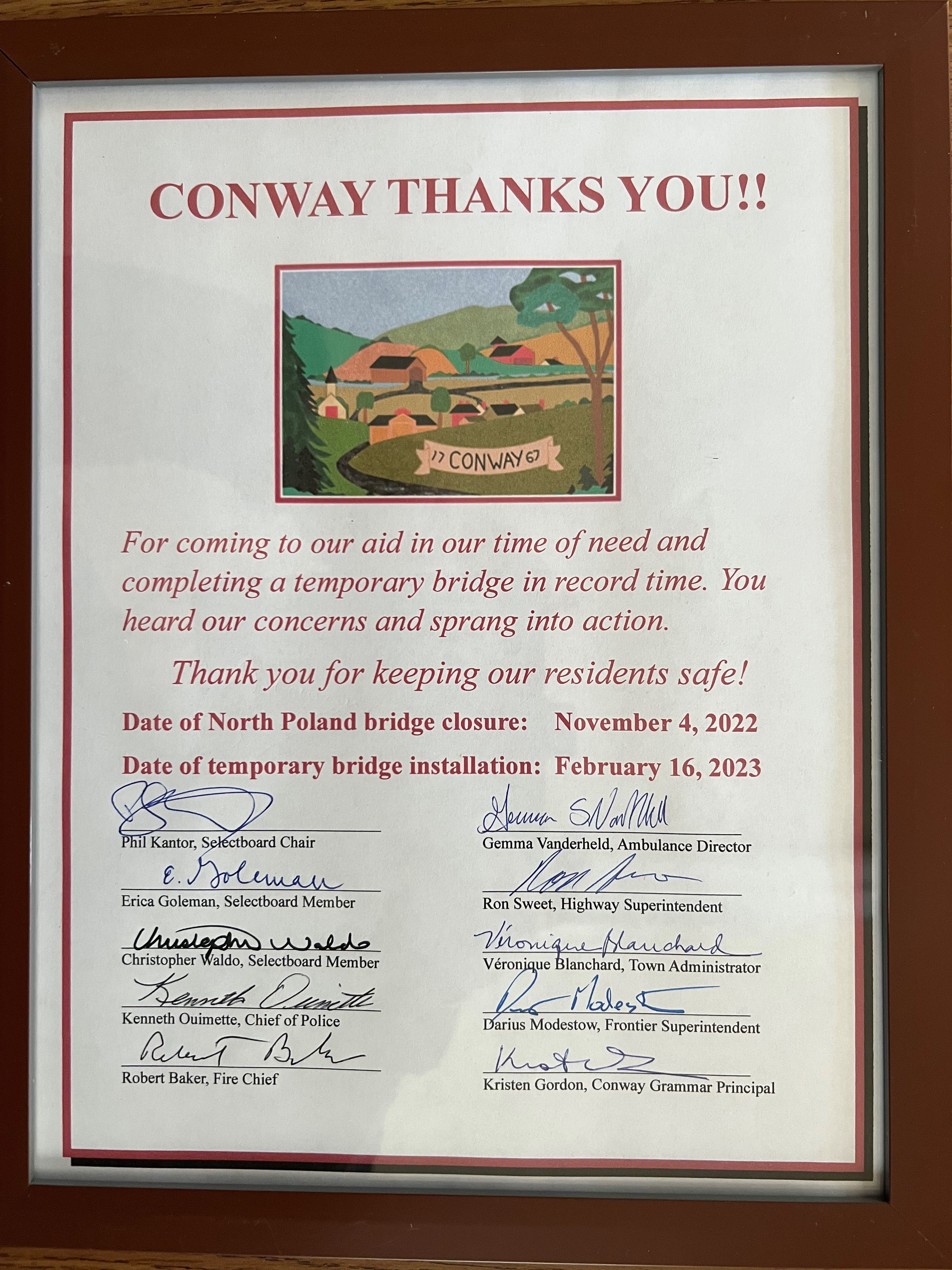 Floodplain Administrator
The Floodplain Administrator's duties are described in the Protective Zoning Bylaws of the town, and include the following:
7.4: Designation of Community Floodplain Administrator
The Town of Conway hereby designates the position of the Town Administrator to be the official floodplain administrator for the Town.
The duties of the Floodplain Administrator include but are not limited to:
a) Applying the regulations for development in the floodplain overlay district
b) Ensuring that permits are applied for when development of any kind is proposed in the floodplain overlay district
c) Oversight of the permit process and/or permit application review for development in the floodplain overlay district
d) Coordinating with other local departments such as Building Inspector, Highway Department, Planning Board, Zoning Board of Appeals, and Conservation Commission.
e) Notifying adjacent communities prior to alteration of a watercourse
f) Dealing with compliance issues and enforcement actions such as activities to correct violations of the bylaw, and working with the appropriate local staff to coordinate such efforts
g) Maintaining records of floodplain development, and keeping FEMA current and historic maps available for public inspection
h) If the Town/City acquires data that changes the base flood elevation in the FEMA mapped Special Flood Hazard Areas, the Town/City will, within 6 months, notify FEMA.
Town Administrator Updates