Select Board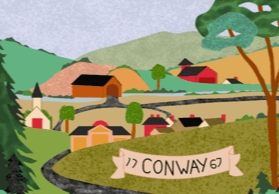 Sub Committee(s)
Additional Page(s)
You can see videos of past Selectboard meetings at https://www.youtube.com/user/FCATMedia/videos.
You can join us live on zoom: https://us02web.zoom.us/j/6586796584?pwd=V05VK1V4MktSdFU4NGVBWndDb0pFQT09
Meeting ID: 658 679 6584
Passcode: conwaysb
If the zoom feed fails the Selectboard meeting will continue with those in attendance.
Meeting Schedule: Held regularly every other Monday @ 6:00PM – Town Office Building, 32 Main Street, Conway, MA 01341. During budget season (January to May), every Monday @ 6:00PM. Variations from this schedule will be posted at least 48 hours before occurrence.
Next 3 meetings:
Members
3 of 3 seats. 3 years each seat.
Philip Kantor, Chair. June, 2024.
Erica Goleman. June, 2023.
Christopher Waldo. June, 2025.
Previous meetings: